Blog Design Question of the Week (#2) – Does My Business Need a Blog?
Monday, June 20th, 2011 at 12:31 pm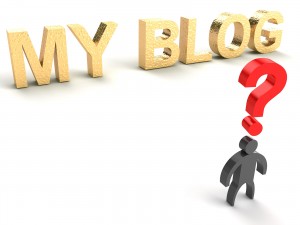 Welcome back! This is week #2 for my Blog Design Question of the Week series. Like I mentioned last week, this is an opportunity for you to ask a question that's been on your mind. Or for those of you who know the answer to the question or have something to contribute, please feel free to chime in and join the conversation. The more the merrier.

This week's question came from a recent client of mine. It is a question that I receive quite often actually… Does My Business Need a Blog?
This is an excellent question. I personally feel that blogs are underutilized and overlooked in many businesses and non-profit organizations today. The way I see it, if you have  a business then you must have customers. If you have customers, then you need a way to interact with them. It's that simple.
You may be thinking that a blog is JUST an online journal where people talk about their personal lives or blog to help raise funds for a specific cause. Contrary to what you may think, a blog has a lot more potential to grow your business than you may be aware of.
There are 3 reasons that your business needs a blog:
Interact With Customers - Utilizing a self-hosted blog is a great way to interact with your customers. A successful online presence should involve blogging about relevant information about your business on a consistent basis. The goal should be to engage your audience by sharing brief and valuable information about your products and services. Another key for meaningful interaction with customers or potential clients is to integrate your blog with other forms of Social Media like Facebook, Twitter, and Linkedin. You may want to reference this article that I posted earlier titled "4 Tips for Marketing Successfully With Social Media". Finally, wherever possible, try to encourage participation by inviting your readers to engage in the conversation.

Drive More Traffic – Search Engine Optimization (SEO) is a critical component of doing business online. Many of the top marketers have often said that the key to a successful business is "location…location…location"! This concept does not only apply to traditional brick and mortar businesses (a company that possesses a business or store for operations). It is also relevant for online companies. So, whether you are operating your business from a suite in a strip mall, a home-office, or blogging from your neighborhood coffee shop; it is important that people can find you. Effective SEO techniques is the best way for your potential customers to locate you online.

Become the Expert in your Niche – Establishing your expertise is synonymous with branding. You must effectively communicate your brand to successfully establish your expertise. Many of today's brand leaders have an entrepreneurial spirit. In order to generate sales and/or followers your audience must view you as knowledgeable, credible and helpful. A great way to enhance these characteristics is by having a will to succeed and through a path of continuous learning. Immerse yourself into your industry or the product line that you are involved in with a goal of learning everything about what it takes to succeed. Seek out classes or mentors if necessary.
So does your business REALLY need a blog? The answer is definitely YES!
If you already have a self-hosted blog for your business, do you need to look into adding some basic SEO techniques or an online marketing strategy? If you do not have a blog, maybe you should look into starting one today. If you need any assistance feel free to contact me and I'll be glad to help.
Thanks and have a blessed day!
Thanks, and you should connect with me on Facebook here.


Filed under: Affordable Blog Design
Like this post? Subscribe to my RSS feed and get loads more!