Just Wanted to Share
Tuesday, January 24th, 2012 at 10:49 am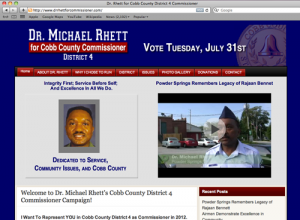 I just finished a great project for a friend, Dr. Michael Rhett, who is running for Cobb County Commissioner (District 4) in July 2012.
I was really moved by the video, "Remebering the Legacy of Rajaan Bennett", the McEachern High School football student who lost his life at 18 in February 2010. Many friends and family came out to the memorial ceremony. I am grateful for individuals like Dr. Rhett; coming together with other groups to make a difference in the lives of people in our community.
Check out Dr. Rhett's new site and be sure to vote on July 31st.
If you want to know more about Dr. Rhett and how he is making a difference in the lives of people who live in the communities of Austell, Powder Springs, Mabelton and S.W. Marietta, you need to see the video and read more about his campaign by clicking here.
Thanks, and you should connect with me on Facebook here.


Filed under: Affordable Blog Design • Affordable Web Design
Like this post? Subscribe to my RSS feed and get loads more!