How to Write a Post on WordPress Blog (#3)
Sunday, July 3rd, 2011 at 11:35 pm
Happy 4th of July! I hope you all are having a wonderful day so far.
I thought I'd share today one of the questions that I get asked quite often after I create a professional blog for a client. How do I write a post in WordPress?
In order to start posting content to your blog, you will need to login to your WordPress admin. This is the area where you can write articles and posts, add categories and links to your blog, maintain comments, switch out your blog's theme, and more.
To write a post on your blog, follow these steps:
1. Log in to your WordPress Administration Panel (Dashboard). The url would be http://yourdomain.com/wp-login.php
2. Click the Posts tab.
3. Click the Add New Sub Tab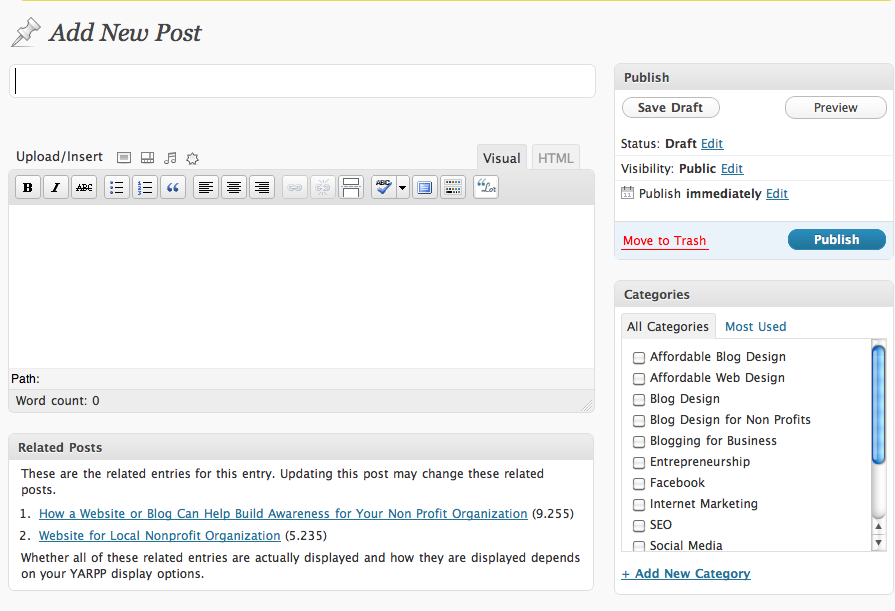 4. Start filling in the blanks.
5. As needed, select a category (from the far right side), add tags, and make other selections from the sections below the post.
When you are ready, click Publish.
For more information on how to write a post, click on the link: http://codex.wordpress.org/Writing_Posts
Thanks, and you should connect with me on Facebook here.


Filed under: Blogging Basics 101
Like this post? Subscribe to my RSS feed and get loads more!