Entrepreneurs Can Change The World
Friday, December 17th, 2010 at 11:44 am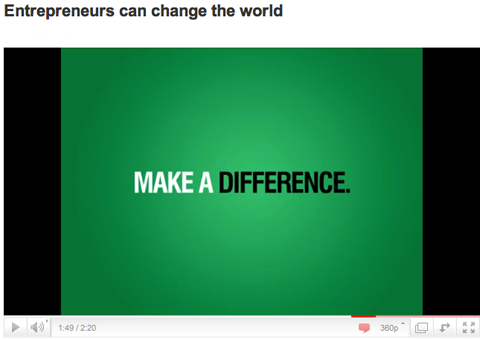 Click Here or the Picture above to Watch the Video
Over the past few years, I've spent a bit of time reflecting on my business and how I can become a better entrepreneur. As a result, I plan to periodically post something here on my blog on the subject of entrepreneurship.
Almost everyone I encounter lately, is an entrepreneur or have a desire to be an entrepreneur. I have heard it said that home ownership is the "American Dream". Well I now believe that owning a business is the "new" American Dream.
All of us have not been called to be entrepreneurs, but for some of us, it is our calling. It is our passion. And for some, it is your purpose in life.
How many of you reading my blog today want to start your own small business, a corporation, or even a 5013C?
Many of you have already done just that. Some of us have the desire to build something that we can call our own. Just remember, you are not in it alone.
There is a community of people here (and is steadily growing) that share  your same interest, and I am always here and available to provide you support as well.
One of the keys to a successful business is exposure. So a blog or website, and social media outlets (like Facebook or Twitter) are a good place to start.
Another one of my objectives over the next several weeks is to help you stay motivated. Perseverance is the key to success during the start-up phase of a new business. So never give up on your dreams!
Finally, if you are like me, you have so many ideas that you want to implement that there are times that you don't know where to start.
Well let me share a personal tip with you that has helped me tremendously in my business, and even in my personal life as well.
Take the time to write down your thoughts and ideas in a journal or any place that you can keep your mental notes. Then turn those notes into the appropriate deliverables.
Let me give you a practical example. After writing down your your thoughts and ideas, you could then turn them into goals. After that, you would convert those goals into a business plan or marketing plan. Or for some that have a book in your spirit, you would be turning your mental notes into an outline for your book or start working on the book proposal. Whatever you do, just keep writing and documenting your thoughts!
Give it a try for 3 weeks and see what happens. Leave me a comment and let me know how this works for you.
In the meantime, if you haven't done so already, be sure to check out the video that I found a while back on YouTube and use it as motivation to get started. You can play the video at the beginning of this article, or click here. Enjoy!
To Your Entrepreneurial Success,
Michelle
Thanks, and you should connect with me on Facebook here.


Tagged with: 5013c • change the world • entrepreneurs • Entrepreneurship • opportunities • purpose • turn your dreams into reality • vision
Filed under: Entrepreneurship
Like this post? Subscribe to my RSS feed and get loads more!