Serving Others – A Rewarding Path to Success
Thursday, May 6th, 2010 at 11:01 am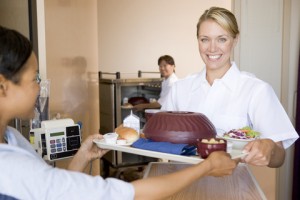 Successful people are always looking for opportunities to help others.  Unsuccessful people are always asking, "What's in it for me? - Brian Tracy

The Most Rewarding Path to Success is to Serve Others
I was a Management Consultant for over a decade and have been an entrepreneur / self-employer for almost three years.  It has been a very rewarding experience for me.
Many people tend to think that being an entrepreneur is the quickest way to success.  I am not sure that I totally subscribe to this theory.
In actuality, entrepreneurship is not for everybody.
But, if you feel that you are being led in this direction, I believe that you have to make it about others in order to succeed at it.
I have found that no matter what your business, job, ministry or occupation is – the more you give, the more you get in return. Basically, you reap what you sow. The most rewarding path to success in entrepreneurship (and really life in general) is to serve others.

Make it your business to serve others.
Most great businesses are rooted in the concept of providing exceptional customer service or serving others.  If you are interested in starting a successful business, I recommend you start by finding a way to serve others.
One of my God-given talents is the gift of creativity.  In my spare time I love to Scrapbook, play the piano and write songs & poetry.  It is something that I enjoy and it comes natural to me.
As a result, when I decided to leave "corporate America" and become an entrepreneur, one of the first areas that I gravitated toward was Web Design and Development. This industry allows me to exercise my creative side and serve others.
So, as you set new goals for your business or if you are in the start-up phase of a new business – seriously think about what you can do to serve others.  Whether it is starting a car wash, a restaurant, or a financial planning agency – put people first and success will follow.

A successful entrepreneur is a Servant Leader.
Every entrepreneur should strive to be a "servant leader" which means that your primary goal is to serve others.  When an entrepreneur puts people first, I guarantee that your business will see a vast improvement in achieving results.
There are 3 characteristics of an entrepreneur who is committed to serving others. They are as follows:
Be a good listener
Do not be too busy that you miss an opportunity to help others.  Take the time to listen to your customers or prospects, not just the words coming out of their mouth, but the emotions that they are conveying.  Sometimes if you listen with a caring heart, you will find an area where your business can be a blessing to others through a service or product that they may need.
Have a good heart
You must have a servant's heart in order to be an entrepreneur that is committed to serving others.  A person with the heart of a servant will empathize with others. Once you hear the person's story, you have to be able to put yourself in their place.  After you have listened to their need and made an emotional connection, now all you have to do is find a solution that will help or resolve the problem.
Be a good steward
In a basic sense, a steward is a manager; one who manages time, money or talent.  We should strive to be a good steward over the gifts or skills that we are blessed with.  Some of you may have the "gift" of influence.  This skill is often necessary to be an entrepreneur.  So, use it to do "good".  Many of our natural skills can be used for the good of others or to the detriment of others if used in a negative way.  Let's choose to use our gifts to make our business a blessing to others.
Many of us have a desire to be successful.  I stand by what I said at the beginning of this post, the most rewarding path to success is to serve others.
There are other things that you need to do to achieve your goals – like creating an awesome product that people want to buy, hard work and dedication.  But while you are on the journey to success, why not help others along the way.
I know this post is not internet marketing content, but I am hoping it will inspire someone – and for others, be a confirmation for what you are already doing.
How about you – what's been the most rewarding path to success for you in your business? Let us know in the comments.
P.S. If you enjoyed this post, be sure to subscribe to my blog and sign-up for my monthly e-newsletter. Thanks and have a blessed day!
Thanks, and you should connect with me on Facebook here.


Tagged with: business success • help others • leadership • path to success • rewarding path • servant leader • serving others • successful entrepreneur
Filed under: Entrepreneurship
Like this post? Subscribe to my RSS feed and get loads more!