Blog Design Question of the Week (#1) – What is a Facebook Landing Page?
Monday, June 13th, 2011 at 12:17 pm
Every week (probably on Mondays), I will post a new Blog Design Question of the week. This is a great opportunity to ask any questions that you may have. It doesn't have to be just on blogs though. The topics can range from Blogging, Entrepreneurship, Web Design, SEO, Social Media and Branding.
My goal is to share knowledge and solutions to help you with any challenges you may be facing as you grow your business online. And I'm hoping to learn new things via this process as well.

Please join in on the discussion and get involved. And feel free to answer any of the questions by leaving a comment.
So let's begin…..this week's question….What is a Facebook Landing Page? This question was actually asked a few weeks ago by one of my fans on my own business FB Fan page.
If you have created a Facebook page for your business, then you are off to a good start. The next step in really engaging your visitors would be to create a landing page. This would be mainly for your 1st-time visitors that come to view your page. This landing page is your opportunity to welcome new visitors and tell them what you would like for them to do now that they are on your page.
On my custom landing page, I basically tell my new visitors who I am and what to expect on my page. And then I invite them to "like" my page and stay connected with me. For some of my clients, I have recommended that they make a special offer or discount that will help convert their visitors into "fans".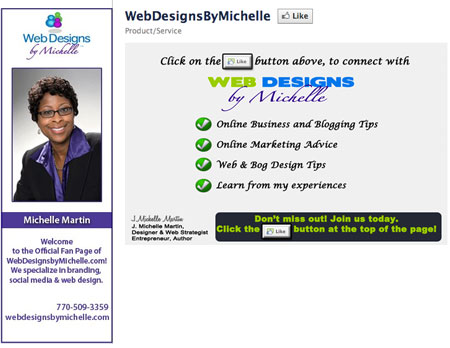 Without a landing page, the visitors will just land on your wall. They may be confused as to what you offer as they browse through the most recent status or posts on your page. So why not make the best use of your time and your visitors' time, by telling them up front about your brand. This is also a good time to clearly tell them what you would like for them to do. I have found that when people are clear on what you are asking them to do, they are usually more responsive.
Here are a few examples of FB landing page designs that can give you some inspiration for your page. I design landing pages, so feel free to check out my design portfolio and contact me if I can be of any assistance.
Feel free to share a link in the comments section to your landing page.
Thanks, and you should connect with me on Facebook here.


Filed under: Facebook • Social Media
Like this post? Subscribe to my RSS feed and get loads more!